It's officially June. While for many of us, that may just mean sipping cider and cocktails on the patio during the lunch hour and eagerly waiting for the minutes to tick by before the weekend at the cottage, it's different for some.

It's Pride Month, y'all.
Exactly. To commemorate the Stonewall Riots that took place in June, 1969 in New York City, many Pride events take place in June. This led the month to be known as Pride Month, culminating in the Pride Parade around the world. If there's a parade in your city and you're attending (which I, personally, think you should) then it might be worth investing in some Pride gear. You could go for the brightly rainbow coloured garb to support the flag, or you could support a brand that contributes to a LGBTQ+ charity or fund.
...and that is?

Ah, yes. The point. I'm getting to it.
Get there faster.

Artistry takes work, okay.
Are you calling yourself an artist?

You know what, we're getting off topic. The point, that I was definitely getting to, is that there's tons of brands you can support. Only some are actually contributing to LGBTQ+ charities and funds with the proceeds and profits they make, and here they are.
---
The iconic Tommy brand is back with it's Pride campaign. Bandanas, socks, duffles, hats, and yes, a Tommy tee, I'm all here for it. The Pride Capsule supports the Human Rights Campaign, with 35% of the purchase price from each sale being donated to a total of $50,000!


The Converse Pride X Miley Cyrus collection has an entire outfit you could wear - high tops, low tops, track pants, hoodie, and a t-shirt. Designed by Miley Cyrus, the net proceeds from the Converse Pride Collection support the It Gets Better Project.
The BeTrue for Equality campaign from Nike has all your workout essentials - sneakers, running socks, a t-shirt, and sunglasses that you could wear while watching the Parade to protect your eyes from the Sun. The campaign supports initiatives that end discrimination in sport, though they haven't clearly mentioned which initiatives these are.
Nike also drew criticism for using and drawing profit from the pink triangle in their images, from advocacy group ACT-UP which repurposed the triangle as their symbol.
The Levi's Pride collection has men and women's t-shirts, tank tops, cut-off shorts, and an adorable rainbow bandana that goes with every outfit. The tops feature great inclusive slogans, including "I Am" and "I Am Proud". 100% of the net proceeds support the Stonewall Community Foundation and the Harvey Milk Foundation.
Though small in nature, UO's Happy Pride collection has four adorable products from you to choose from - two t-shirts, an embroidered hat, and a tote bag. For every product sold, the UO Community Cares donates $10 to GLSEN (the Gay, Lesbian & Straight Education Network).
Bringing back the iconic KAM for men and women, with a rainbow stripe at the back! The Pride Collection also features a t-shirt, colourful rainbow socks, and a Kenneth Cole logo hat - the basics. You can opt for the entire kit for men or women and score 20% off! Last year, a portion of the proceeds benefitted the Human Rights Campaign. It's not easily evident where the proceeds are going this year on the Kenneth Cole website, though.
American Eagle's Pride Collection features a variety of different t-shirts, all for $25.99 and three different online-exclusive boxers for $16.87. The t-shirts are fun and colourful, all with a powerful message - including a "Love is Love is Love" t-shirt. 100% of the sales from the 2018 Pride Collection benefit the It Gets Better Project.
CB2 is letting you wear your pride this year, with customizable t-shirts and tank-tops. You can write in whatever makes you proud for a unique statement, whether it's queer, fabulous, or out - the possibilities are endless! CB2 is supporting the GLSEN with these t-shirts, in addition to a $25,000 donation. Though these products won't ship to Canada, you can find them and more options are your local CB2.
In partnership with the True Colors Fund, MeUndies has a limited-edition design. The True Colors Fund is dedicated to ending homelessness among LGBT youth, and for each pair of True Colors purchased, MeUndies donates to the True Colors Fund. The exact percentage isn't clear, however. There are multiple styles available - boxer briefs, trunks, boxers, briefs, bikini, thong, boyshorts, and a couple more that you can check out below!
Hollister wants you to Wear Your Pride on your t-shirt, or your flip flops, or your sunglasses, or your swimsuit. The collection has tons of variety, from shorts to flip flops and accessories with a ton of different designs as well. Some of the pieces are online exclusives, but you could find others in Hollister Co. stores in your area! Proceeds will benefit the GLSEN, with the company donating additional funds to the charity.
The popular Haskell frames are back, but with a twist - six kaleidoscopic colours and lens hues to match any Pride outfit you've picked out. The collection starts at $150 and features shades Ruby, Pink Opal, Lemon Meringue, Aloe Crystal, Oxford Blue Crystal, and Amethyst Crystal. The collection supports The Trevor Project and Lambda Legal, which support crisis intervention, suicide prevention, and full recognition of civil rights for all LGBT people and those living with HIV.


This unique set, designed by artists Craig & Karl, donates 100% of its profits to the a variety of LGBTQ+ causes, including GLAAD, GLSEN, True Colors Fund, and more. The set includes a one of a king engraved handle, three German engineered blade cartridges, a foaming shave gel, and a travel cover.
The two-piece collection from Madewell is in collaboration with the Human Rights Campaign, one of the largest civil rights organizations that strives to ensure LGBTQ people are safe and free. Madewell's Love to All collection echoes that message, with 50% of the purchase price from the products being donated to the Human Rights Campaign.
Classic style and now for a good cause, Frank and Oak has brought out the "And" Collection with the thought that instead of saying "or" for what sets us apart, we say "and" for what brings us together. For every purchase, $5 will be donated to Pride Montreal.


The Under Armour HOVR Sonic is now here in a Pride Edition. With rainbow soles, the black running shoes for men or women are the perfect running accessory. The shoes support Athlete Ally to foster an inclusive environment for all athletes. A specific amount isn't mentioned.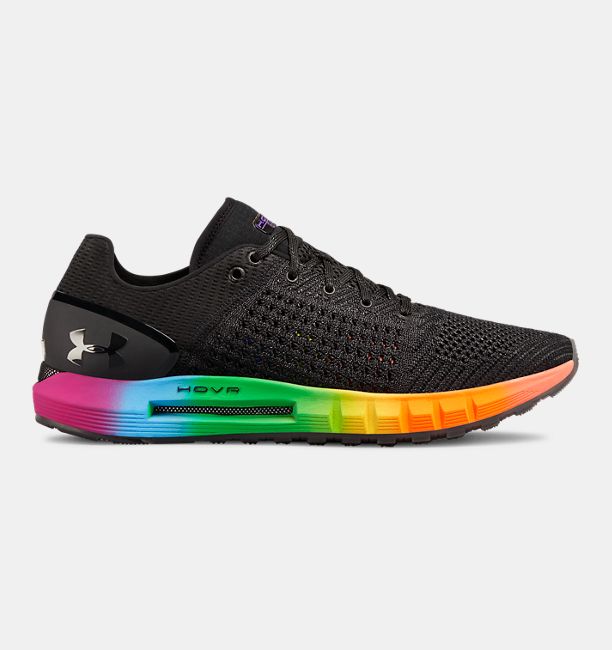 H&M's pride collection has different styles of different loudness, letting everyone be who they want, and all for a great cause. 10% of the sales from the collection will be donated to the UN Free & Equal Campaign for equal rights and treatment for LGBTQI+ people everywhere.
---
I'll keep an eye out and update this list routinely. If you have a brand you know that is supporting a great cause, let me know below!