Right below day drinking on a patio, I would rank camping as Canadians' second favourite summertime activity. It competes with cottage season and watching the Blue Jays from the nose-bleeds, while also day drinking.

Day drinking, you say?
You're right, that is Canadians' favourite summertime activity, hands down. But I'm sure you can agree that camping is a close second. There's nothing like it - being out in the wilderness, while simultaneously surrounded by families in RVs, grilling burgers and hotdogs over the campfire, watching the sunset over the lake and waking up at the crack of dawn to go hiking, only to come back to the campsite covered in mosquito bites and regretting everything when you realize that you never bought any bug-repellent and lamenting your entire existence at that point.

Um, I thought you said camping was fun?
It is! When you have all the right camping gear. You could probably make do with a stump as a chair and the campfire as your stove, but you know that camping gear checklist that you were trying to find earlier? That has a bunch of other stuff that will make your camping weekend easier.
So camping in style?
Whatever little style you have, yes.
I kid, I kid, but let's get to the nitty gritty of it. Where do you get the best camping gear online in Canada? At these stores below!



REI Co-op

The granddaddy, the holy grail, the first place you should shop for when you want camping gear. Recreational Equipment Co-op has it all. The camping section of REI's website has enough products for you to get lost in, from backpacks and camp kitchen essentials, to camping chairs, tents, sleeping bags, lighting, and clothing.
Because REI knows that you might need a little (or a lot) more information before you head out, they even have a helpful Camping Articles section that has a camping checklist, teach you how to build a campfire, and even fight bears (well, avoid bears. We don't advise fighting them).
The REI Outlet is perfect for shopping on a discount. You can find Gear Under $20 and 50% Off Deals!
What Would I Buy? This Eno Sub7 Hammock for only $34.73 (50% off from $69.95) that squishes down into a tiny pack!

Mountain Equipment Co-op
Another co-op, another wonderful place to shop to grab all your camping essentials. Since 1971, MEC has been keeping Canadians equipped for camping, hiking, biking, and all other methods of breaking a sweat. You have to be a MEC Member to purchase from here, but 1% of your purchase goes to the planet so at least you're doing your part! Membership only costs $5 for a lifetime, and with it, you can rent camping gear at a discount. If you want to trade in something old for something maybe even older, check out Gear Swap where you can recycle gear online or in person.
If you're looking to buy for the long haul, MEC's Hike and Camp section has everything you'd need for a perfect trip - sleeping bags, tents, footwear, packs, clothing, kitchen equipment, and tons more. Hiking and Camping Gear Clearance is a great place to scour through for some deals too, and any order over $50 gets free shipping!
What Would I Buy? This Venture Outdoor Gear 8-Point Tarp for $49 (51% off from $100) to make sure our hot dogs are safe from the rain!
Cabela's Canada
If you're thinking Camilla Cabello's Havana, don't worry - I was too. Before I dove into camping, I had no idea Cabela's was the institution that it is. From hunting, fishing, boating, and camping, it's a one-stop shop. You'll find everything you need here! The Camping section offers a great inventory for your essentials, and if you're looking to venture on any other adventure, you can get outfitted here.
For extra savings, get Rebates on certain purchases and brands. Head onto the Bargain Cave to go spelunking for some deals. There's over 800 sale and clearance items to explore!
What Would I Buy? These Keen Oakridge Polar Waterproof Boots for $99.97 (45% off from $179.99) to keep my feet warm and dry!
Atmosphere
All the best brands in the Atmosphere, at Atmosphere... okay, I admit, not my best line but you can't deny that all the best brands are at Atmosphere - The North Face, Yeti, Osprey, Merrell, Marmot, Columbia, McKinley, Sea to Summit, and I could go on, and on, and on. Atmosphere's Camping and Hiking Gear offers a somewhat smaller inventory but nevertheless a worthy mention. The essentials are all here, as well as some non-essentials - Outdoor Games to keep everyone in a good mood and Dog Gear if you're bringing your best friend along on your trip.
Check out Weekly Deals and Features to get a few extra savings on your purchase. You can get select camping packs and kayaks up to 50% off, or up to $90 off on men's and women's shoes. The Footwear Spend & Get Event is on till June 10th, so if you spend $100 or more on footwear, you'll get a $25 promo code or card for your next purchase.
What Would I Buy? This McKinley Women's Make 50L Backpack for $79.99 ($50 off $129.99) to keep all my essentials!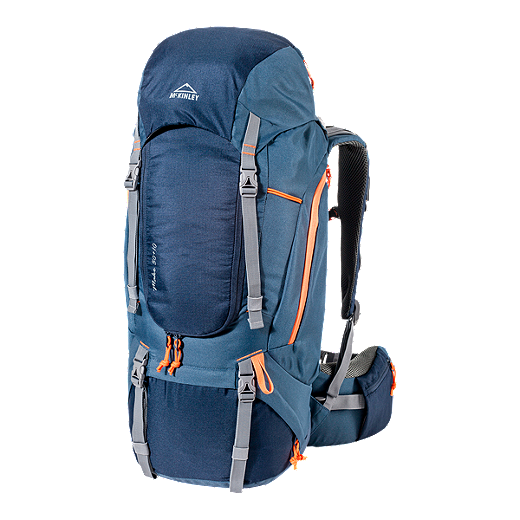 Canadian Tire
If you're just starting out, or if this is your first camping experience and you don't want to fully commit, then Canadian Tire is the perfect place to get your basics. They have everything you'll need for a first trip, from tents to sleeping bags and air mattresses, and none of it will be too costly in Camping & Hiking. Though Canadian Tire doesn't deliver, you can pick-up for free at a store nearby. Shopping online at Canadian Tire gives you a larger inventory to look through as well.
Brands like Outbound, one of Canadian Tire's biggest brands, is a great place to start. You could luck out with in-store discounts and online savings, since there's always tons at Canadian Tire!
What Would I Buy? These Outbound K9 Prism Fully Multi-Coated Binoculars for $79.99 (60% off from $199.99), perfect for bird-watching!

Amazon
If you're looking for something in particular, then check out the other online holy grail - Amazon. There's nothing you can't find, from Dollar Store products for somehow less than a dollar to specialized equipment. Plus, if you don't care about the brand or the three weeks it may take to ship to you from China, Amazon is perfect for you. You can get outdoor hammocks, sleeping bags, tents, and all other equipment.
Check out the Outdoor Deals Store for daily deals and specials on equipment. Brands like Coleman and Outbound are available on surplus as well, so you might be able to find better deals here!
What Would I Buy? This Honest Outfitters Camping Cookware Kit for only $22.99, perfect for every trip!
While you're bound to find all the equipment you need, and probably more, from the stores above, there's still a couple more places you should check out for additional deals and savings.
Altitude Sports and The Last Hunt are perfect for those clearance-priced, last minute savings on outdoor gear and clothing.


Mountain Gear has tons of great, niche gear and equipment if you're looking to get into climbing, trail running, and more.


Sail has all the outdoor clothing you'll need to keep you and your family outfitted for your entire trip.

After this, you'll be a happy camper! Just make sure you have everything on your camping checklist, pack tightly enough that things don't roll around in your car, and get ready for adventure.
...and don't forget the bug spray.