Let's face it - we all love Tommy Hilfiger. Some maybe more than others (AKA, me). I love wearing Tommy Hilfiger, shopping Tommy Hilfiger, and perhaps the only thing I love more is buying Tommy Hilfiger online, from the comfort of my own couch. The brand's iconic label with it's blue, red, and white colours, are about as classic as fireworks on Canada Day.
That said, Tommy isn't the easiest brand to find deals for. If you're in Canada, then the first place to look is Tommy.com, but the US-based site as USD pricing. If you're using a promo code or shopping a sale, the price conversion from USD to CAD usually negates any discount.
So I've scoured the Internet and our favourite Canada-based sites for the best Tommy Hilfiger and Tommy Jeans sales and deals currently live. But if you're not able to find the product you want on sale, make sure to check out the best places to shop for Tommy in Canada below.

It was hard, but I did it - here's the all-encompassing guide to everything Tommy Hilfiger in Canada.
So, without further ado, keep on reading!

---
Tommy Hilfiger Deals
Updated August 2018!
If you're looking to find the best steal and deal, check out some of the ones I've found below that are live currently. I'll be updating this post regularly so check back soon!

Women's Clothing Deals & Sales
Right now, on Hudson's Bay website, you can get dresses for Buy One Get One 50% Off, with over forty items on sale. The Bay also offers free shipping on orders over $99!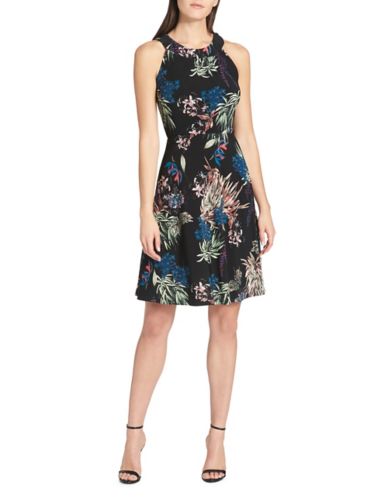 That includes this beautiful Tommy Hilfiger Garden Jersey Fit-and-Flare Dress for only $134. You could potentially get that for 50% off at only $67!

One of my other favourite dresses on sale is this Cap-Sleeve Fit-and-Flare Dress that's perfect for date night or a wedding. Bonus, it's only $164 (or $82 if you're getting it 50% off!)
If you don't feel like BOGO-ing, there's a handful of dresses on sale at the Bay at 25% to 50% off, like these below.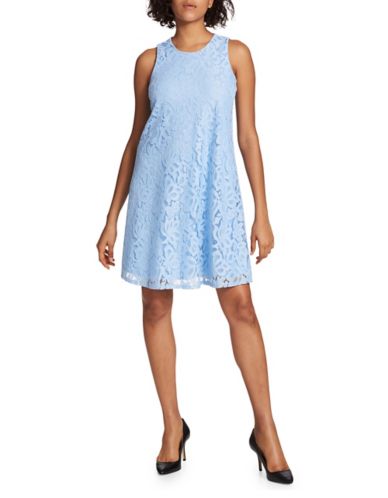 Get this Tommy Hilfiger Lace Trapeze Dress in Blue for $49.50 (Reg. $99 - 50% Off)!

If you're looking for outerwear, check out Tommy Hilfiger on Amazon.ca! If you already have Prime, and if you don't, then you should, then you'll save on shipping on most of these products. You can also find a huge variety of Tommy products on Amazon, including tons of women's clothing. Only certain styles and sizes are on sale, like the ones below:
You can get this Tommy Hilfiger Women's Single Breasted Trench Coat for as low as $52.18 (Reg. $129.99 - 60% Off)
This comfy Women's Tee & Logo Pyjama Set, available in multiple colours, can be bought for as low as $35.90 (Reg. $65.32 - 45% Off).

Tommy Hilfiger on ASOS has over 130 styles on sale, from women's accessories to clothes to bags, swimwear, sleepwear and underwear.
---
Men's Clothing Deals & Sales
Whether you're looking for polos, boxers, or ties, you should check out The Bay for men's clothing items on sale. For the classic Tommy Hilfiger polo, the Bay has tons of options on sale, like these two below:
This Tommy Hilfiger Winston Solid Polo is available in over ten colours, and only for $24.99 (Reg. $65 - 61% Off).
If you want a polo that's slightly more fun, check out this Tommy Hilfiger Princeton Embroidered Cotton Polo for $64.75 (Reg. $129.50 - 50% Off).

Like women's clothes, Amazon Canada has tons of great options for men's Tommy Hilfiger products, especially outerwear. You'll only find certain colours and sizes on sale, but they'll often be over 50% off so it's well worth the hunt to find the deal. Here's a down jackets that I personally love.
The Tommy Hilfiger Men's Outerwear Packable Down Jacket in yellow-gold is available for $43.94 (Reg. $89.10 - 51% Off) in certain sizes.
If you're looking for jumpers and sweaters, ASOS currently has a few great cashmeres and cable sweaters on sale, like this one below. You'll also get free worldwide shipping from ASOS!

This Tommy Hilfiger Denim Cable Jumper in Navy is only $75.74 (Reg. $168.32 - 55% Off).
---
Tommy Jeans Deals & Sales
The Tommy Jeans brand is perhaps my favourite of Tommy's collections. They have classic denim skirts and jeans, and great graphic t-shirts and sweatshirts to go with it. So if you're looking to get a full Tommy Jeans outfit, here's a couple places that have deals on them currently.
Women's Tommy Jeans on ASOS has over 35 items on sale for women, including jeans and sweatshirts. Men's Tommy Jeans on ASOS has over 20 products for sale.


Simon's has a few Tommy Jeans product, and only a couple on sale, but they're worth keeping an eye on if you're after something particular.
---
Where to Buy Tommy Hilfiger Online
If we're talking about buying Tommy Hilfiger online, we should probably start with discussing what we're buying. You could go for the Tommy classics - the shirts, the shoes, and the clothes. Or you could be after Tommy watches and bags for that perfect emblematized accessory. Or it's home products you want - Tommy Hilfiger sheets, I can personally attest to, are worthy of a great sleep.
Here's the stores I'd recommend, and what you should buy from there!

There's no better place than the original! Check out Tommy Hilfiger's website for some great original finds. They have everything you could want from Tommy, and some things that might surprise you too! The site might be in USD, but they definitely ship to Canada and for your ease, all shipping charges and duties are collected on checkout so there aren't any surprise fees when you receive your package!


Canada's favourite department store strikes again! From socks to shirts to swimwear to shoes, all of Tommy Hilfiger's iconic apparel can be found at the Bay. The Tommy Hilfiger Kids collection is especially great, considering almost everything is on sale! The signature Tommy Hilfiger handbags, from shopper totes to zipper crossbody bags, are all available on discounts up to 25% off! Even better, you can score a free Signature Coin Bag Gift with the purchase of a handbag! To make shopping at the Bay even more enticing, they offer free shipping on orders over $45!

It's Amazon, so you know they have everything. It might not have the first place you looked for Tommy Hilfiger, but it's probably one of the best. A quick search will give you tons of different deals on Tommy Hilfiger products, from wallets, baseball caps, boxers, polos, belts, and on and on and on. The shipping prices vary (but if you have Amazon Prime, free one-day shipping is a possibility!) but the prices are hard to beat - nearly everything is on sale! The watches are up to 35% off! If you've been trying to find that one elusive Tommy Hilfiger bag or travel neck pillow (Tommy Hilfiger has EVERYTHING!), then Amazon is your best bet.


Simon's has a great collection of Tommy Hilfiger for Men and Women, as well as Tommy Jeans! The curated women's collection has underwear and socks, and men can peruse the men's collection for great finds on ties, boxers and PJs, socks, backpacks and more! The Tommy Jeans is where Simon's beats it competitors, with graphic t-shirts, sweatshirts, and those iconic Tommy jeans! Get free shipping on purchases over $100, and we know it won't be hard to get to that amount!



Shoes, clothes, accessories, bags, and some more shoes for good measure! Yoox is a US based site, but they ship to Canada, with all duties calculated at checkout. Their range includes tons of Tommy Hilfiger collections, including Tommy Jeans, Tommy Hilfiger Denim, Hilfiger Collection, and Gigi Hadid x Tommy Hilfiger too! So if you're looking for something specific (or everything, like we usually are), then it's a great place to start. Check out the Sales for finds up to 35% off, including sweaters, coats, shoes, jeans, and tons more!


It's where every teenager is shopping at, and for Tommy Hilfiger, you should be too. Urban Outfitters not only has a great collection of Tommy Hilfiger underwear, sweaters and Tommy Jeans, they have their very own Tommy Hilfiger X UO Collection that's exclusive to Urban Outfitters! The collection includes bodysuits, bikinis, leggings, comfy sweatshirts, shorts, and sweats, and t-shirts. Keep an eye on the sale section, where you can hit gold! Like this retro windbreaker Tommy Hilfiger jacket at almost 50% off!


It's the world's most fashionable search engine, and now we know why. You can't buy anything on ShopStyle, but they can find deals for you! Just search "Tommy Hilfiger" and lo' and behold, you've got deals. You even have the option to search for something pre-owned, if vintage and thrifty is your style. Check out the Plus Size and Home sections for deals hard to find anywhere else.


All your Tommy Hilfiger Home desires, all in one place. The Tommy Hilfiger home collection has sheets, blankets, accessories, chairs, towels, and even sofas! We're sure that's something you've never heard before, and yes, it's true - Tommy Hilfiger has sofas. Now your home can really all be Tommy Hilfiger like we know really truly want. WayFair has tons of products on sale up to 25% off and offers free shipping on orders over $75!
---
Tommy Hilfiger Outlets in Canada
If you're in the area and have a bunch of time on your hands, these Tommy Hilfiger outlets might be worth checking out!
Montreal: B1-1007 Rue du Marche-Central, Montreal, QC H4N 1J8
Mirabel: 9001, Chemin Notre-Dame, Mirabel, Quebec J7J 0T1
Toronto: 1 Bass Pro Mills Dr, Vaughan, ON L4K 5W4
Toronto: 775 Britannia Rd W, Mississauga, ON L5V 2Y1
Toronto: 3401 Dufferin St, Toronto, ON M6A 2T9
Let us know what your favourite Tommy Hilfiger deal is, and if you've found some we haven't!