If you're shopping for a new pair of eyeglasses, you may get a sticker shock when you pick up a pair of frames at your local optician. It certainly doesn't help that vision insurance doesn't always cover glasses—and when it does, it may not cover the whole cost. An alternative to this is to take your eyewear shopping to the internet and shop for your favourite brands for less!
Those of us that wear glasses, know first-hand how frustrating it can be to buy a pair of new frames. Chances are your optician has a slim selection with overpriced styles. But, thanks to some of these spec-tacular online stores—shopping for eyewear is easy and affordable!
There are so many things to consider when you're buying a new pair of glasses including the shape, prescription, fit, quality, and that's just the beginning of this never-ending list. And, if you miss any of these key features, there begins the cycle of headaches, awkward squinting, and the constant tucking on the bridge to keep them from sliding off your nose. Yes, the struggle is real!
On top of all that, we need a different pair of glasses for all the activities we do. One pair for reading, another to wear at the beach—bifocal, trifocal, polarized, this is just too much to handle!
What if we told you there's a way to avoid all these issues. Just simply order better frames online, for less money, with better customer service, and a wider collection to choose from!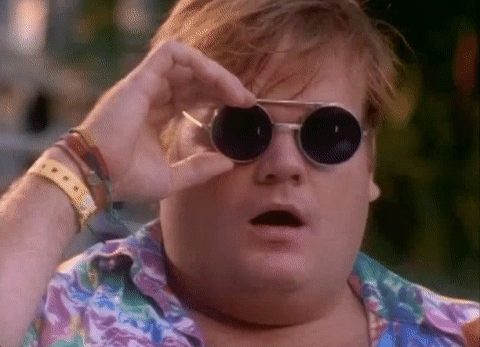 So. whether you just got a new specs prescription or need a pair of shades for the summer, we have got you covered! Take a look at the top 10 places to shop for eyewear online in Canada, along with the staff pick from each store.


---
1. Optically
Great place to shop for prescription and designer glasses, with prices starting as low as $19. They usually have some sort of promotion going on and you can get even more discounts! With their August Sale you can enjoy a flat discount of 30% off on your order. Just use the promo code SAVE30 to redeem this offer before August 3, 2018. Shop from a wide selection of brands including Gucci, Fendi, Hugo, Jimmu Choo, Marc Jacobs, and many more! Take advantage of their online try-on feature and 90-day unconditional returns!
Staff Pick: Vogue Multi-Coloured Eyeglasses for $27 (was $38)

---
2. SmartBuyGlasses


This place stands true to it's name, Smart Buy Glasses. Offering a wide selection of sunglasses. eyeglasses, contact lenses, and more! You can shop from their biggest and best flash sale for this season and get up to 70% off designer sunglasses and eyeglasses. SmartBuyGlasses offers free shipping on all orders, along with a two-year warranty. You also get 100-day returns, if you are not satisfied with your purchase. You can try on the glasses with their virtual camera feature. Also, get an additional 12% off sitewide, with the promo code MEGASALE12. These are some seriously deep discounts, you'd be crazy not to get involved!
Staff Pick: Dolce & Gabbana Vintage Rounded Sunglasses for $192.76 (was $321)

---
3. Zenni

One-stop shop for eyewear for men, women, and kids! You can shop from some class acetate frames enhanced with striking details. They are currently offering 25% off select Photochromic Lenses. Use the promo code SAVE15 to redeem this discount. They have a variety of styles to shop from including, cat-eye, aviator, square, brow-line, round, and tons more! Shopping online is made easy with their 4-step guide. Begin with measuring your PD, then upload your picture to Frame Fit (virtual mirror), find a pair you love, and then just enter your prescription. Yes, it's seriously that easy!
Staff Pick: Brown Rectangle Glasses for $15.95



---
4. Bonlook

If you're into the newest styles for glasses, this is the ultimate destination for the trendiest eyewear! Bonlook takes glasses from seeing to being seen. They design frames in-house in Canada and work with the world's leading lens manufacturer, Essilor. With their ongoing sale of 50% off select styles, you'll definitely find some great steals! They feature some stunning collections including Streamline, Nudes, Bespoke, Essence, and many more! You can also take advantage of free shipping on all orders over $80 and get free 30-day returns. So, what are you waiting for?—Hurry up and start shopping right away!
Staff Pick: Infinite Rose Gold Sunglasses for $37 (was $75)

---
5. Clearly

Choosing the right pair of glasses is as much about how the world sees you as how you see the world. Clearly understands that each face is unique and offers a huge selection of prescription glasses and sunglasses from a variety of brands. They are currently offering a Buy One Get One offer on your second pair, as well as lenses and frames. You can apply the promo code BOGO to get your second pair free. Use the promo codes LENSUP and FRAMEUP to get 20% off lenses and frames respectively. They also offer free shipping and returns on all orders and have personalized customer service too. Clearly, this is the choice for you!
Staff Pick: Derek Cardigan Eyeglasses for $75 (was $95)

---
6. EyeBuy Direct

Head over to EyeBuy Direct for some of the best deals on eyewear, with prices starting as low as $9. There is a wide variety of stylish and affordable eyeglasses and sunglasses. Check out their new 'Eyeballin' collection and look like Hollywood on a B movie budget! For every order placed, EyeBuy Direct donates one pair of glasses to someone in the country of your choice. Wow, this is a great opportunity to contribute to a good cause along the way! You can sign up for emails and get 15% off and free shipping on your order. So, treat your eyes to some real eye candy with a new pair from their catalog.
Staff Pick: Benicia Matte Green Sunglasses for $31

---
7. Warby Parker

If you're willing to splurge on some of the newest eyeglasses and sunglasses, Warby Parker is the place to go! Buying glasses is easy and fun, and it will leave you happy, good-looking, and with money in your pocket. Their designs are exceptionally conceptualized to help you look your level best! Shop from a number of their stunning collections including Framework, Summer Edit, Haskell, Summer Sun, and more! They also distribute a pair of glasses to someone in need, for every pair purchased. They offer free shipping and free returns on all orders. So go ahead, and start adding to your online shopping cart!
Staff Pick: Louise Wide Eyeglasses starting from $150

---
8. Frames Direct

Look great and see perfectly, with the largest selection of authentic designer eyewear and highest quality optical lenses! Frames Direct features many brands including Ray-Ban, Oakley, Burberry, Persol, and tons more. You can shop for over 80 brands and get up to 60% off. Use the promo code 60CATCH to redeem your discount. They have free shipping on all orders. You can take advantage of their price match guarantee and save more! Talk to a trained optician to assist you with your purchase. Don't miss this eye-catching sale and start shopping now!
Staff Pick: Kate Spade Lucyann Eyeglasses for $123.74 (was $247.48)

---
9. Amazon

We always head to Amazon to shop for all our smartphone cases, home essentials, and books, so why not shop for some sunglasses too! Amazon has a wide collection of aviators, clubmasters, round, and wayfarer styles! Take this opportunity to get summer ready with the latest eyewear trends. You can shop from their under $100 section and find sunglasses for both men and women. There are a number of brands you can choose from including Ray-Ban, Ralph Lauren, Guess, Hugo Boss, and many many more! You can sign up with Amazon Prime and also receive free two-day shipping on your order.
Staff Pick: A.J. Morgan Castro Round Sunglasses for $10.71 (was $31.20)

---
10. Sport Eyes

If you're going to be playing sports and being your athletic self, you can shop for specialty sport glasses from Sport Eyes. They offer a wide range of eyeglasses, and sport glass accessories including straps, clips-ons, defoggers, and much more! You can shop from many brands like Adidas, Gargoyle, Barracuda, Aquaviz, and tons more. They are currently offering discounts up to $50 off with a certain amount of purchase. Use the promo code 50OFF to redeem the discount. You can find eye gear for any sport including baseball, golf, cycling, rugby, motorcycling, and the list goes on. Get active, and get shopping!
Staff Pick: Adidas Evil Eye EVO Sunglasses starting at $179

---
EYE hope you enjoy shopping!