//img3.shopimg.ca/content/zoom/22149283_main_zoom.jpeg
//img3.shopimg.ca/content/full/22149283_main_full.jpeg
Move your mouse on image to zoom or click to view gallery
Cuisinart GC-17NC Griddler Griddler™ Grill Centro - Stainless Steel - 6845926336
suggested retail price:
$149.99
You Save
$20.00
13
ships free
SHOP.CA Price:
$129.99
Earn up to:
$6.50 Rewards
Cuisinart Indoor Grills at SHOP.CA
Small Appliances

Griddler™ Grill Centro
Presenting a grill that can do it all, all at once! The Griddler™ Grill Centro features a top tier that converts from grill to griddle and a bottom tier that automatically rotates skewers or hot dog rollers at the same time! It's built to last with solid stainless and die-cast construction, yet is easy to clean. So get grilling!
Product Features
Hands-Free Grilling
The auto-rotating skewers let you grill your meats, fish and vegetables to evenly cooked perfection, without lifting a finger
Cleanup's a Breeze
With the dishwasher-safe removable kebab drawers, and reversible grill plate with nonstick coating, cleanup has never been easier
Easy Operation
The On indicator light always lets you know when your unit is in use.
More Than Just a Grill
Cook your favourite kebabs and hot dogs on the bottom, then go up top to griddle and grill everything else on our reversible non-stick grill plate
Parts Included 10 piece skewer set, 10 piece hot dog roller set and recipes
Limited 3-year warranty

Images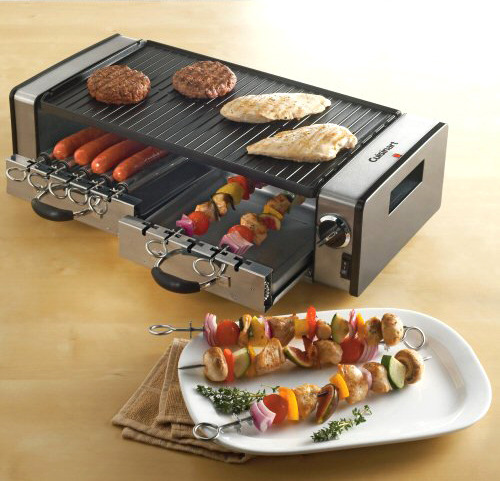 Rating:

Product Info
Product ID:

22149283

SKU:

6845926336

Supplied By:

Cuisinart
Shipping & Returns
Shipping:

Leaves warehouse within 4 business days

Returns:

FREE returns, up to 365 days after purchase
Cuisinart GC-17NC Griddler Griddler™ Grill Centro - Stainless Steel - 6845926336 Customer Reviews
Please wait while we process your request
Please wait while we retrieve the user's information
Bio
Your bio is currently empty. Now is a great time to fill in your profile.
Rank
This profile is private.
This profile is only shared with friends.
This profile is under review.
Please wait while we send the email.
Email This
You may send this to 5 e-mail addresses. Please separate each address with a space.